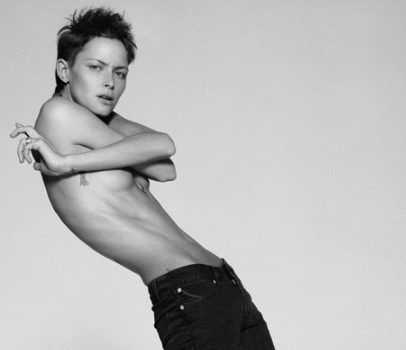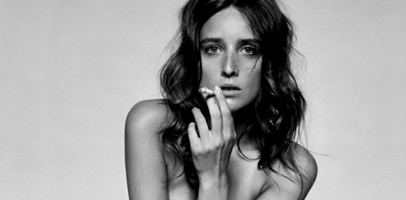 On a collaborative effort with Superfine London's founders Flora Evans and wife Lucy Pinter, photographer Jan Welters presented a gallery pictorial dating back in 2003. Welters conducted raw, personal and stylistic portraits in line with Superfine campaigns. The setting was au naturel with just a pair of Superfine jeans. Classic black and white portraits brought out the subject's character and the denim's personality.
Among the celebrity muses who appeared were American rock musician Courtney Love, English actress Sienna Miller and French singer-actress Joana Preiss. The Superfine gallery also featured some of the fashion world's most sought-after runway models. The list goes to French model Laetitia Casta; Belgian model Ann Catherine Lacroix; Australian models Myf Shepherd and Emma Balfour; Ukrainian model Tetyana Brazhnyk; Canadian models Irina Lazareanu and Tasha Tilberg; American model Missy Rayder; Serbian model Natasa Vojnovic; Dutch models Doutzen Kroes, Kim Noorda and Dewi Driegen; Argentine model Romina Lanaro; British model Kirsten Owen; Polish model Malgosia Bela; Croatian model Helena Sopar and Russian model Colette Pechekhonova.

DesignerDenimJeansFashion: Spring Summer Fall Winter
Season Collections, Campaigns and Lookbooks
Credits and Source Links:
www.superfinelondon.com
www.janwelters.com

Related Posts and Links:

YOUR FEEDBACK: What do you think of the portraits?
In Fashion Portraits on February 21, 2009.
Tags: Ann Catherine Lacroix, Argentine, Colette Pechekhonova, Courtney Love, denim, Dewi Driegen, Doutzen Kroes, Emma Balfour, Flora Evans, gallery, Helena Sopar, Irina Lazareanu, Jan Welters, jeans, Joana Preiss, Kim Noorda, Kirsten Owen, Laetitia Casta, London, Lucy Pinter, Malgosia Bela, Missy Rayder, Myf Shepherd, Natasa Vojnovic, Portrait, Romina Lanaro, Sienna Miller, Superfine, Tasha Tilberg, Tetyana Brazhnyk