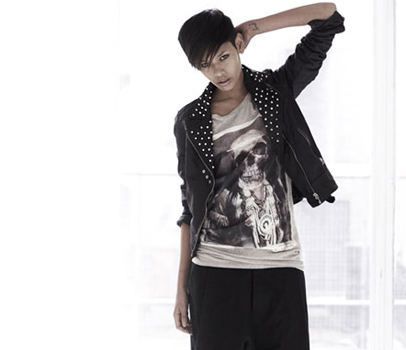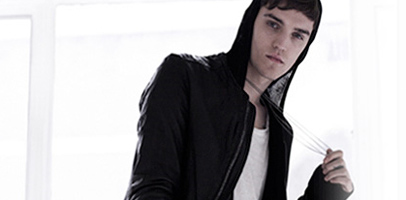 AllSaints Spitalfields theme extends through Spring and Summer 2009 Collections. It's still dark and edgy but a little casual touch to freshen up the clothing line.
Women's collections feature more floral design in dark undertones, draped necks and edges, capri dresses, camisoles, boots and brogues. Men's apparel shows earth undertoned fieldtracker jackets and parka, stylish cardigans, brogues and dock bags.
Designer Denim Jeans New Arrivals:
AllSaints Womens Skinny Pipe Jeans: Jet black, Matching topstitching, Slim leg, Tight fit, Baked creases, Front scoop pockets and Oxidized black finish rivets.
AllSaints Womens Trulia Fit Jeans: New Harem style fit, Loose fit, Worn on the hip, Extra long rise, Low crotch for loose laid back bohemian look, Distressed denim, Tapered below knee and Low scoop pockets.
AllSaints Mens Iggy Fit Vertical Jeans: Vintage look, Distressed denim, Large wide whiskers, Slim fit and Slightly tapered below knee.
AllSaints Mens Misfit Fit Vertical Jeans: Harem inspired fit, Slightly loose on crotch, Vintage look, Faded on thighs and knees, Distressed denim, Large wide whiskers, Slim fit and tapered below knee.

DesignerDenimJeansFashion:
Designer Fashion Trends Blog. Denim Jeans News Magazine.
Credit and Source Link:
www.allsaintsshop.co.uk
www.allsaints.co.uk

Related Posts and Links:

YOUR FEEDBACK: What do you think of the collection?
In Collections: Spring Summer, Mens Collections: Spring Summer, Womens Collections: Spring Summer on March 12, 2009.
Tags: 2009, All Saints, All Saints UK, AllSaints, AllSaints Spitalfields, Brit, British, collection, denim, designer, designerdenimjeansfashion, England, fashion, Great Britain, Harem, Harem style, Harem style fit, Iggy Fit, jean culture, jeans, London, primavera, saint, Spitalfields, spring, summer, Trulia Fit, UK, United Kingdom