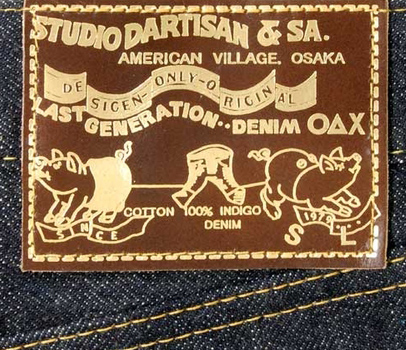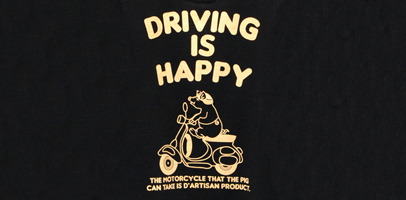 Studio D'Artisan is at it again. This 2009, the Japanese cult denim brand celebrates its 30th Anniversary. Notable designer denim jeans showcase 30th Anniversary Limited Edition denim and some new pair of jeans for 2009 Spring Summer. To top it off, we have posted Studio D'Artisan's classic graphic tee quotations and sayings on their shirts. Classic, indeed!!!
Studio D'Artisan 30th Anniversary Limited Edition DO1-30 Jeans
Studio D'Artisan 30th Anniversary Limited Edition SP-003 Jeans
Studio D'Artisan SD601-oo Jeans
Studio D'Artisan SD601-ooUSED Jeans
Studio D'Artisan SD601-99 Jeans
Studio D'Artisan SD601-99USED Jeans
Graphic Tee Quotes:
Studio D'Artisan 30th Anniversary
West Japan, Osaka, Kansai
Check!! You names pigs!? The entry is waited for. Thank You!!
Studio D'Artisan present NastyPig and WidePig
Middle age cartoon. Pig who work with ship. The pig is leading part's comic
The pig wants to listen to music.
We think the horse to be interesting.
They had the horse eat the score.
They listen to music by using the horse.
Stomp! Stomp! Stomp!
She works hard at being bossy and crabby.
She is always loud and yells a lot.
Um paw um paw!
His friend is sometimes tired from him, but is not bored.
Feelings are conveyed.
He felt a little self-conscious.
Shy in front of his girlfriend.
(Smurfs rendition)
Cranial
Of what do you think?
Is it pig's mischievous trick?
Or, are we told anything?
Studio D'Artisan by Can't Betray
Small-scale production factory
Complete order production
Can't betray
Union Made Original Uniform
Therefore, we cannot betray our customer.
And we do not compromise to the commodity.
Small-scale production factory
Driving is happy.
The motorcycle that the pig can take is D'Artisan product.
Verve
I love time that has biked.
However, the foot doesn't reach.
My driving is dangerous.
Pigjoy
Motorcycle Producing Company.
Prompt Airplane
The pig flies over the sky to carry a pack.
It is our work to deliver luggage by airplane.
Carry Surely.
The pig whips the dog.
Story that two pigs made.
Scene where pig that is bubbling over is lovely and interesting.
He plays music though he should work.
He inadvertently whips the dog.
 

DesignerDenimJeansFashion:
Designer Fashion Trends Blog. Denim Jeans News Magazine.
Credit and Source Link:
dartisan.co.jp

Related Posts and Links:
YOUR FEEDBACK: What do you think of the jeans and the new denim arrivals?
In Collections: Spring Summer, Mens Collections: Spring Summer on June 30, 2009.
Tags: 2009, dartisan, deisgner, denim, designerdenimjeansfashion, DO1-30, fashion, Japanese, jean culture, jeans, Kansai, Limited Edition, NastyPig, Osaka, pig, pigjoy, SD601-99, SD601-99USED, SD601-oo, SD601-ooUSED, SP-003, Studio D'Artisan, summer, WidePig