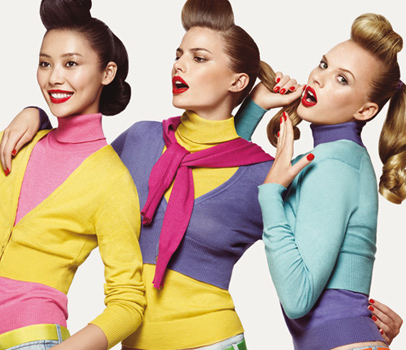 Colors are alive and kicking this 2009 Spring Summer Collection for Benetton. The men's collection combines youth, classic pieces and futuristic styling altogether. There are yarn-dyed checked cotton jackets with contrasting details, colorful gabardine trousers, cargo Bermuda shorts and microcheck or striped cotton shirts.
On the other hand, the women's collection depicts simplistic elegance, sophisticated vibrant colors and carefully constructed cuts and styles. Parading the line are denim trench coats, Vichy check or yarn dyed shorts,
Muslin cotton dresses, floral patterns, printed dresses with halter neck and puff-sleeve poplin cotton shirts.
Notable denim jeans selections feature:
Benetton Mens Delave Denim Trousers with Vintage Effect
Benetton Mens Stone Washed 5 Pocket Jeans
Benetton Womens 2 Shade Baggy Jeans
Benetton Womens 5 Pocket Bleached Jeans with Vintage Effect
Benetton Womens Wide Delave Denim Trousers with Turn Up

DesignerDenimJeansFashion:
Designer Fashion Trends Blog. Denim Jeans News Magazine.
Credit and Source Link:
www.benetton.com

Related Posts and Links:


YOUR FEEDBACK: What do you think of the collection?
In Collections: Spring Summer, Mens Collections: Spring Summer, Womens Collections: Spring Summer on July 12, 2009.
Tags: 2009, Benetton, bermuda, collection, Delave, denim, designer, designerdenimjeansfashion, estate, fashion, jean culture, jeans, pants, primavera, spring, summer, United Colors of Benetton