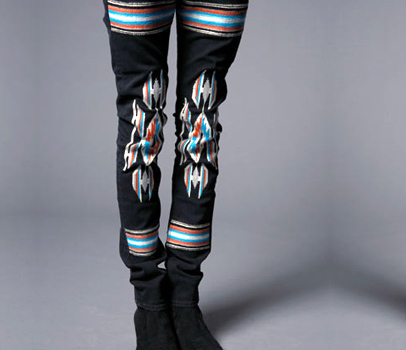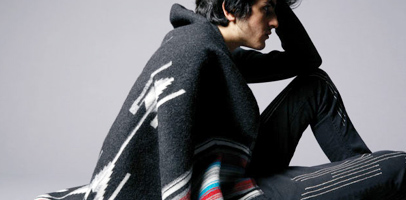 Navajo. Chimayo. Americana.
The Navajo or Dine is the second largest Native American tribe in the United States. The Navajo people's unique arts and crafts are recognized around the world. Aside from silver work or silversmithing and various healing or spiritual practices, the community is also known for their weaving techniques and fabrics. Navajo blankets, rugs and outerwear with popular zigzag or other extensive geometric patterns in various color combinations such as Bayeta red color, black and white are among the most common and in demand products in trade.
On the other hand, Chimayo is a rural community in the state of New Mexico, United States which is made up of neighborhoods called plazas or placitas. Chimayo is known for its Catholic chapel Santuario de Nuestro Senor de Esquipulas or Santuario de Chimayo as a healing site. Dirt from the church's back room as a cure to various illnesses attracts almost 300,000 visitors each year; thus, the place is also known as the "Lourdes of America" by devotees.
The Chimayo chile pepper is also a trademark product of the community. The Chimayo Chile Project by Marie Pilar Campos in 2003 revived the agriculture and spice industry. The Chimayo chile powder is considered an important ingredient for authentic New Mexican and Southwestern recipes to this day.
Similar to the Navajo people, Chimayo has great weaving traditions especially marketed by the Ortega and Trujillo families. The great Spanish Colonial influence and many traditions of weaving techniques make their fabric industry special.
Lastly, the Americana refers to a period of time in the United States, generally from the 1800s to the early 1970s. It was an era of nostalgia, patriotism and the simple life. Americana showcases artifacts from geography, history, folklore, cultural heritage, arts and crafts. It is commonly recognized through paintings, prints, objects, vehicles and a lot more. The artifacts reflect the lifestyle and idealism of the people in that specific era in American history.
Navajo. Chimayo. Americana. It is through these three themes that best describes April77's 2009-2010 Fall Winter Collection. These keywords not only bring forth the essence of this season's clothing line, but forge a new path in modern apparel.
Notable designer denim jeans selections feature:
April77 Mens Cross Black Raw Jeans
April77 Mens Cross Trash Jeans
April77 Mens Joey Chimayo Black Drill Embroidered Pants
April77 Mens Joey Conchos Black Drill Pants Fringe Trim
April77 Mens Joey Raw Japanese Denim Jeans
April77 Mens Joey Rug Black Drill Embroidered Pants
April77 Mens Joey Trash Jeans
April77 Mens Joey Vintage Jeans
April77 Mens Skeleton Frontier Double Weave Carrot Fit Pants

DesignerDenimJeansFashion: Designer Fashion Trends Blog. Denim Jeans News Magazine.
Credit and Source Link:
www.april77.fr

Related Posts and Links:
YOUR FEEDBACK: What do you think of the collection?
In Collections: Fall Winter, Mens Collections: Fall Winter on September 22, 2009.
Tags: 2009, 2010, Americana, April 77, April77, autunno, Bayeta, Black Drill, Chimayo, Chimayo chile, Chimayo Chile Project, collection, Conchos, Cross, denim, designer, designerdenimjeansfashion, Dine, fall, fashion, Frontier, inverno, Japanese, jean culture, jeans, Joey, Lourdes of America, Marie Pilar Campos, Native American, Navajo, New Mexico, Ortega, painting, pants, Patriot, Santuario de Chimayo, Santuario de Nuestro Senor de Esquipulas, season, Trujillo, winter