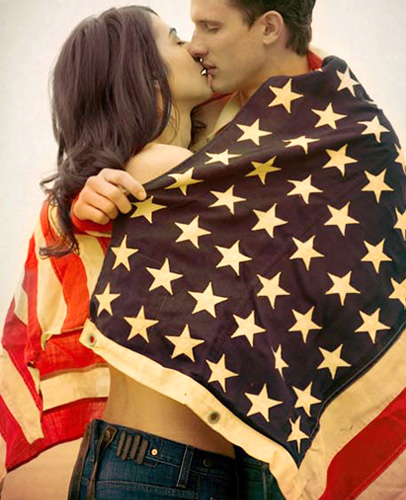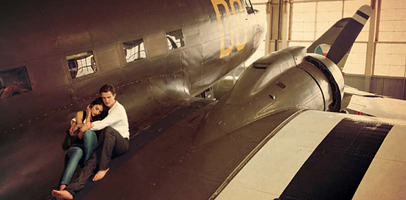 4 Stroke goes patriotic and nostalgic in their 2010 Fall Winter Collection. Their parent company, Aalfs Manufacturing, is the inspiration to the current season collection entitled "Birthright Blue". Organized by creative director, Nathaniel Freeman and photographer, Daniel D'Ottavio, the fashion line showcases America's rich denim heritage and New York's Americana aesthetics. The photoshoot was held at the American Airpower Museum with large World War II aircrafts as backdrops. Models, Ivey and Colby personify the theme. This season's apparel designs from 4 Stroke emit a rugged antique vibe for men and a vintage pin-up charm for women.
Memorable clothing pieces are:
4 Stroke Mens Baker 4SM-7005 Warmtape Jacket
4 Stroke Mens Mercury 4SM-7004 Annistown Jacket
4 Stroke Womens Ms. Jones 4SW-6011 Blueprint Jacket
4 Stroke Womens Livingston 4SW-6010 Blueprint Jacket
Notable designer denim jeans selections are:
4 Stroke Mens Warsaw 4SM-3002 Wax America Jeans
4 Stroke Mens Vanguard 4SM-3000 Blackstar Denim Jeans
4 Stroke Mens Warsaw 4SM-3002 New Skin Denim Jeans
4 Stroke Womens Attic 4SW-1037 Day Old Denim Jeans
4 Stroke Womens Vagabond 4SW-1042 Rival Denim Jeans
4 Stroke Womens The Rose 4SW-1023 Cracked Denim Jeans


Designer Denim Jeans Fashion:
Season Collections, Campaigns and Lookbooks.
Credit and Source Link:
www.4strokejeans.com
Related Posts and Links:
YOUR FEEDBACK: What do you think of the collection?
In Collections: Fall Winter, Mens Collections: Fall Winter, Womens Collections: Fall Winter on November 11, 2010.
Tags: 2010, 2011, 4 Stroke, fall, winter