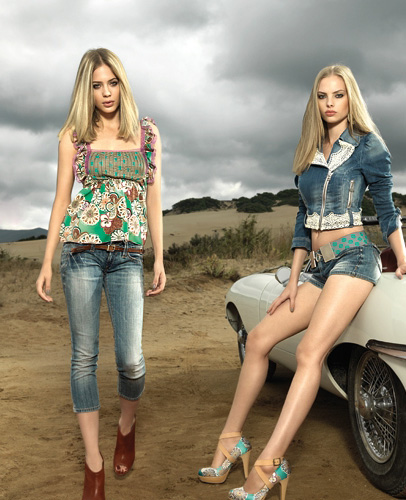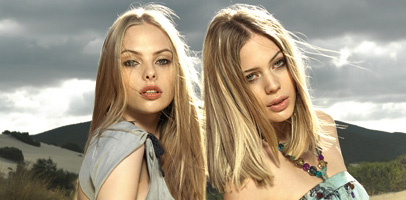 Fornarina presents its Fabulous Legs 2011 Spring Summer Collection. First, it kicks off with an experimental venture into Limited Edition Denim. The Blanca fit is chosen to represent its brand heritage through distinctive patterns, washes, distressing, embellishments and the symbol slash pockets. There are unique fabric treatments such as 3D rip designs, extreme bleach, flame effect and the use of Kurabo denim.
Most of the Fornarina Fabulous Legs collection show unique designs of the waistband to follow the body's contours and the stylish crotch fitting to complement the fit.. Pockets are embellished with studs and formed with mostly heart shapes. Washes and looks are vintage, acid style and destroyed. To spice it up, the tops showcase classic printed pattern blouses.
Notable designer denim jeans selections are:
Blanca Up Slim Denim Jeans with Studded Rivets
Blanca Limited Edition Kurabo Slim Leg Denim Jeans
Forever Wrapping Low Waist Chain Stitch Denim Jeans
Kitty Mid Waist High Outlined Belt Denim Jeans
Olivia Mid Low Waist with Low Crotch Carrot Leg Denim Jeans


Designer Denim Jeans Fashion:
Season Collections, Campaigns and Lookbooks.
Credit and Source Links:
www.fornarinafabulouslegs.com
www.fornarina.com

Related Posts and Links:
YOUR FEEDBACK: What do you think of the collection? Which seasonal fashion pieces do you like?
In 2011 Spring Summer, Collections: Spring Summer, Womens Collections: Spring Summer on December 28, 2010.
Tags: 2011, Fabulous Legs, Fornarina, spring, summer