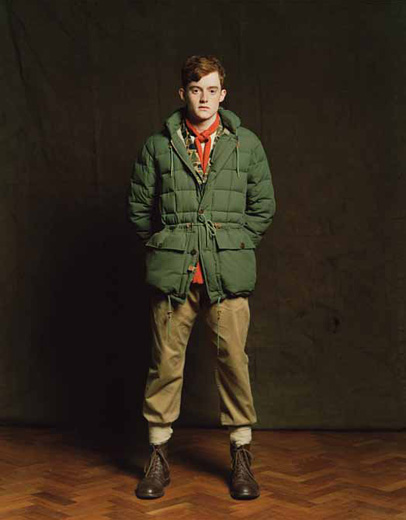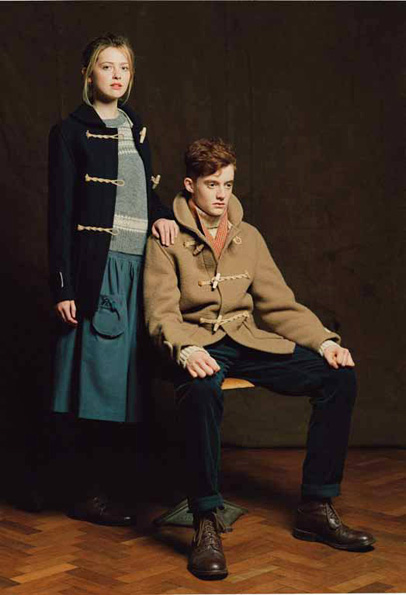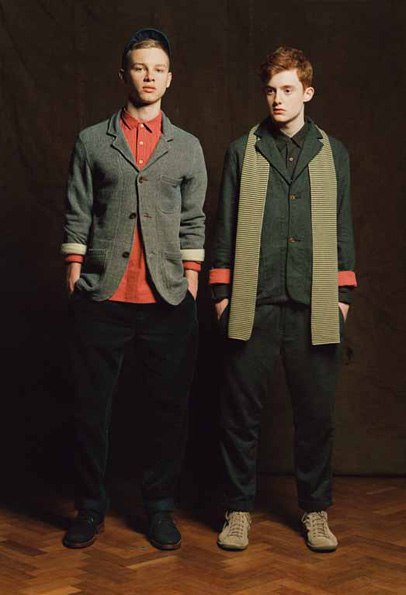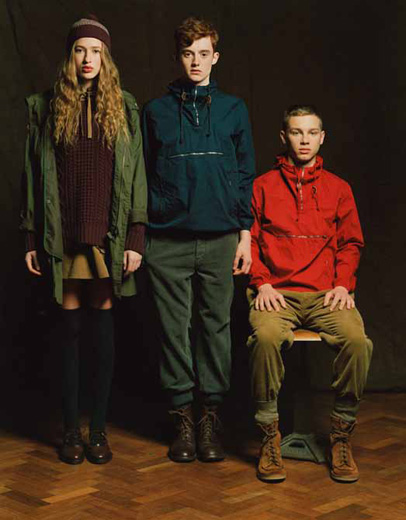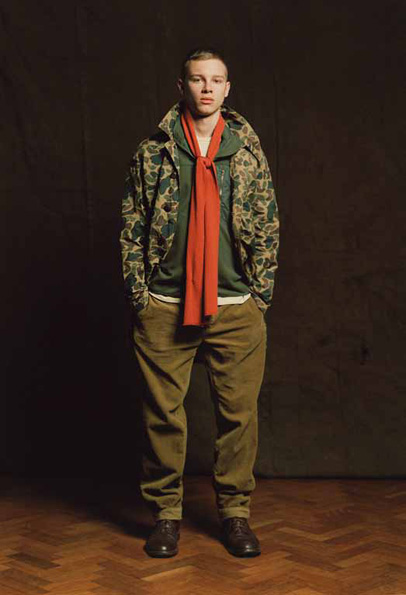 You Must Create (YMC) presents their 2011-2012 Fall Winter Collection. The menswear's inspiration comes from the 1960s uniforms of US servicemen and the UK air force of World War II. Classic outerwear, such as the Quilt Jacket and Duck Coat, reinvents itself with distinct washes and interesting details. Knitwear offers pop color cashmere jumpers, preppy cardigans, mountain fleeces, wools to chunky knits with an unusual square neck option. Another highlights are the Hunting and Fishing Camouflage print items.
On the other hand, womenswear marks the initial collection of designer Sofia Prantera, formerly of cult London label Silas and Maria. The inspiration springs from 1980s preppy, old fashioned Victorian seaside, vintage circus picture books and YMC's menswear aesthetics. We see oversized Parkas, fur lined navy Princess coats, velvet dresses with bibbed sailorette tops, loose flowing fabrics, silk blouses and chunky knitwear. Khakis are essential with new high waisted jeans to alternate on. Finally, wrap yourself up with a shawl style Norwegian fairisle print wool scarf.

Designer Denim Jeans Fashion:
Season Collections, Campaigns and Lookbooks.
Credit and Source Link:
www.youmustcreate.com

Related Posts and Links:

YOUR FEEDBACK: What do you think of the collection? Which seasonal fashion pieces do you like?
In 2011-2012 Fall Winter, Collections: Fall Winter, Mens Collections: Fall Winter, Womens Collections: Fall Winter on July 14, 2011.
Tags: 1960s, 1980s, 2011, 2012, air force, Automne, autumn, autunno, camouflage, cardigan, chunky, circus, collection, Duck Coat, fall, fashion, Hiver, inverno, khaki, knits, linesheet, Lookbook, Mens, menswear, parka, preppy, scarf, season, seasside, servicemen, Silas and Maria, Sofia Prantera, Victorian, winter, Womens, womenswear, YMC, You Must Create