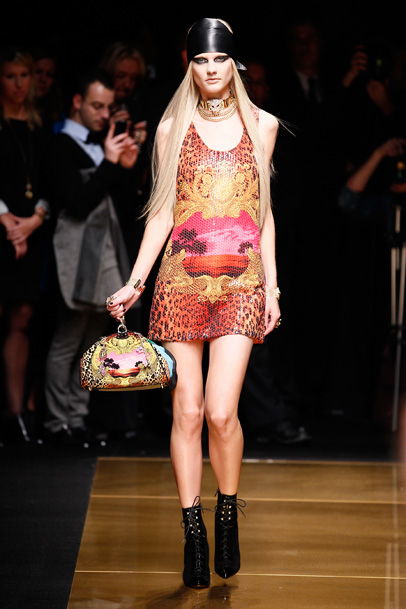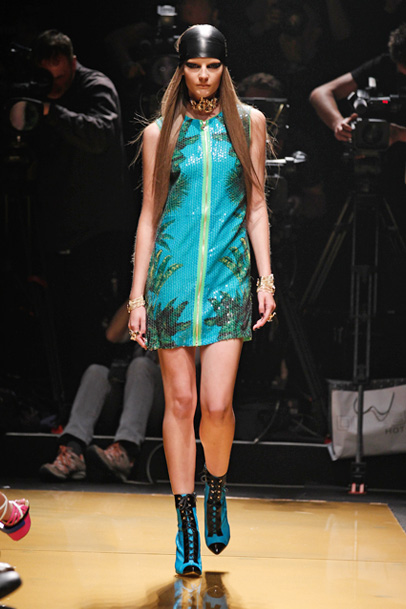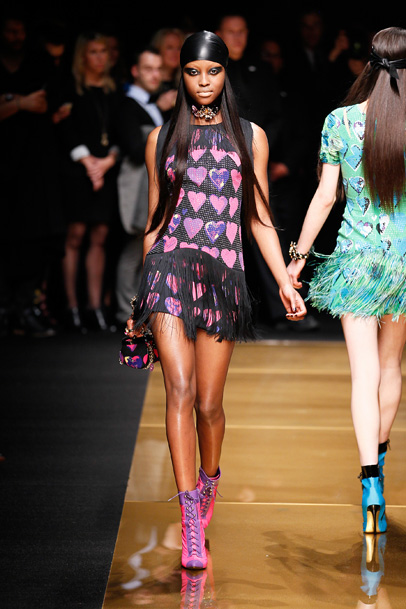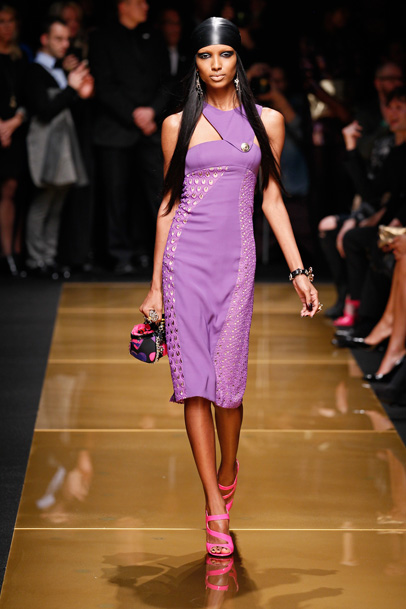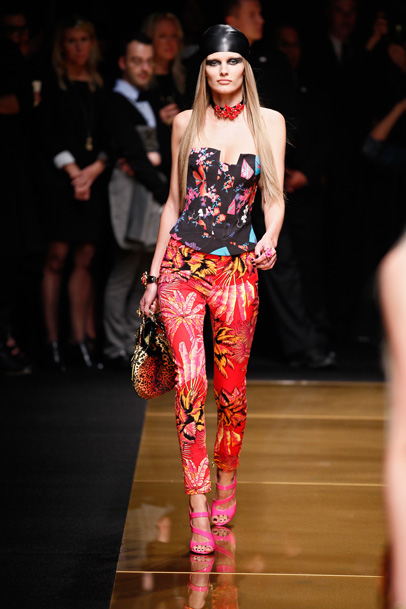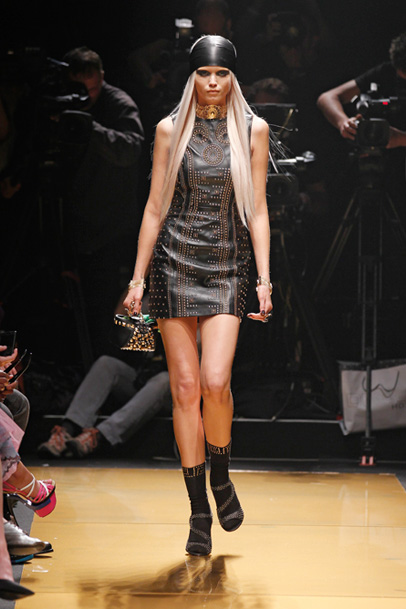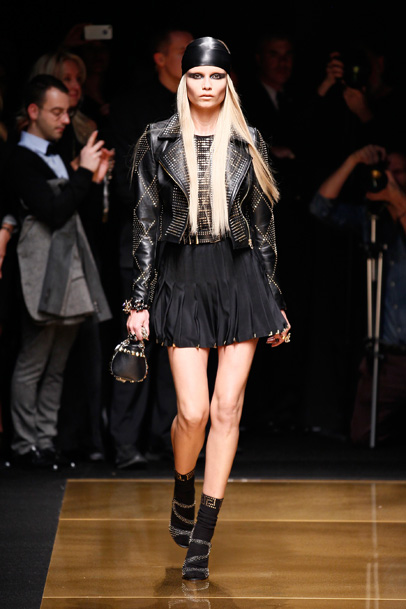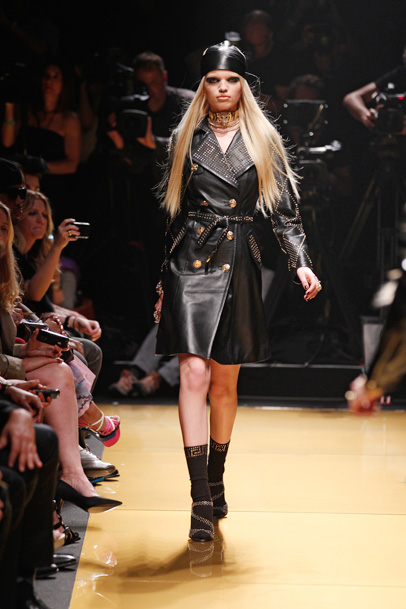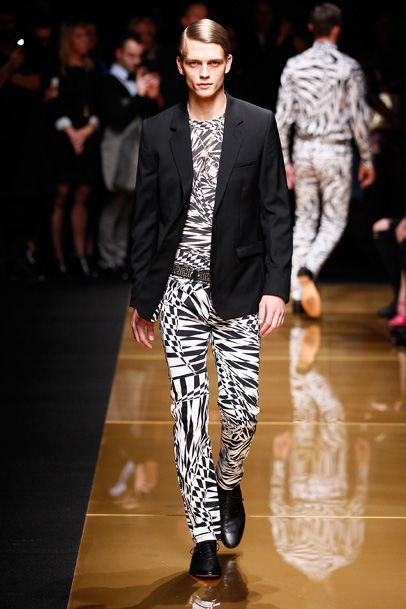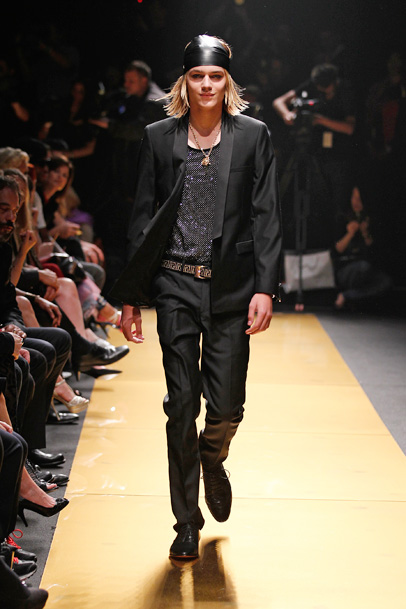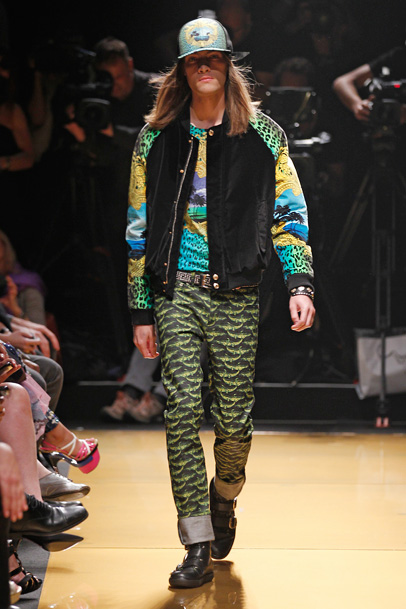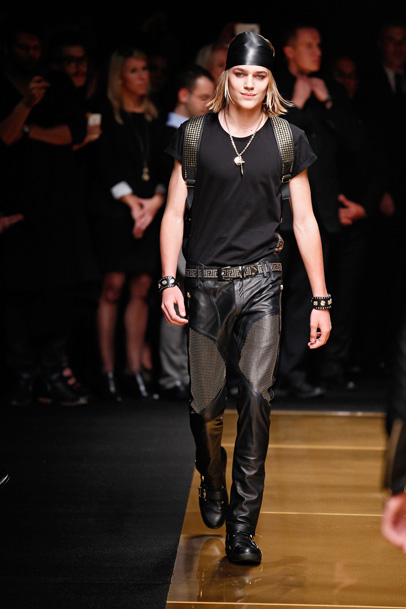 In a much anticipated celebration, Versace for H&M, presented their 2011 Runway Collection by the Hudson River in New York. Numerous celebrities joined in with Donatella Versace and H&M to launch the new line. Top models, Abbey Lee, Daphne G, Natasha Poly, Sean O'pry and Lindsay Wixson, grazed the catwalk. Dan and Corina Lecca lensed the runway looks.
Donned with true Versace style, the venue was paved with gold. The collection featured iconic pieces for women such as draped metal mesh dresses, silk-crepe dresses with gold buttons, multi-coloured panel print dresses, colorful fringe dresses and the classic Versace studded leather jackets. Menswear looks paved way for sharp suits, printed sweaters & shirts and studded leather jackets & trousers. For womensear, we like how the printed silhouettes give flattering looks and how the metallic studded leather outerwear give an edgy vibe. For men's pieces, although, a burst of print is vibrant, to overdo your wardrobe with prints all over is an overkill. One printed element for a man is enough for the ensemble. On the other hand, we like the multi-panelling motorcycle leather pants which exude the timeless Versace flair.
The Versace for H&M collection will be available at around 300 stores worldwide and online on November 17, except in Canada, Japan and US where the collection launch is scheduled for November 19.

Designer Denim Jeans Fashion:
Season Collections, Campaigns and Lookbooks.
Credit and Source Links:
www.hm.com
www.hm.com/versace

Related Posts and Links:
In 2011-2012 Fall Winter, Collections: Fall Winter, Mens Collections: Fall Winter, Womens Collections: Fall Winter on November 11, 2011.
Tags: 2011, 2012, Abbey Lee, Automne, autumn, autunno, catwalk, collection, Collezione, Corina Lecca, crepe, Dan Lecca, Daphne G, designer, Donatella Versace, donne, dress, efterår, fall, fashion, fashion show, fringe, gold, H&M, Hennes & Mauritz, Herbst, herfst, Hiver, höst, Hudson River, inverno, invierno, kis, leather, Lindsay Wixson, linesheet, Lookbook, Mens, menswear, Mesh, metal, Moto, motorcycle, Natasha Poly, New York, otoño, outono, pants, print, Runway, Sean O'pry, season, silk, sonbahar, stud, uomini, Versace, Versace for H&M, vinter, winter, Womens, womenswear