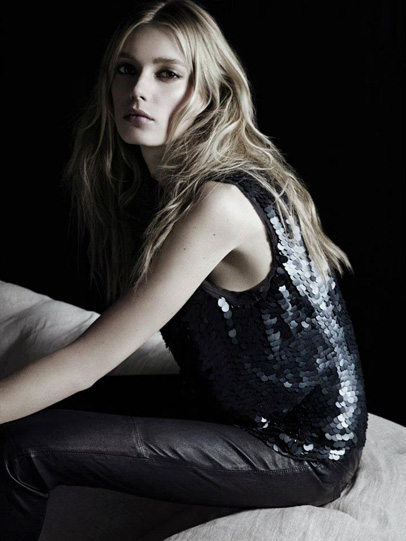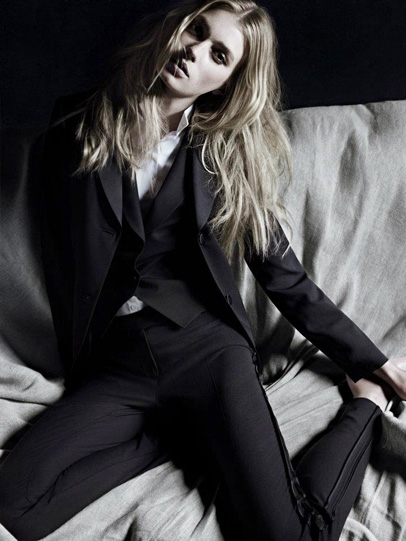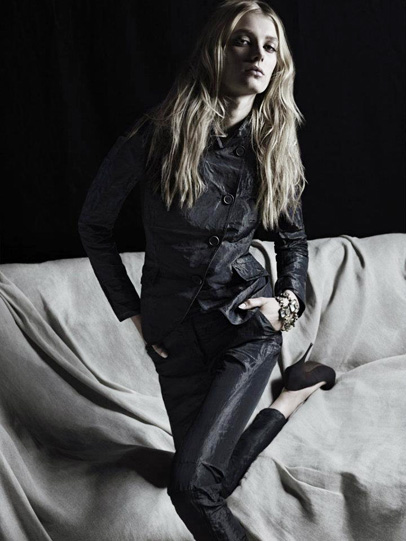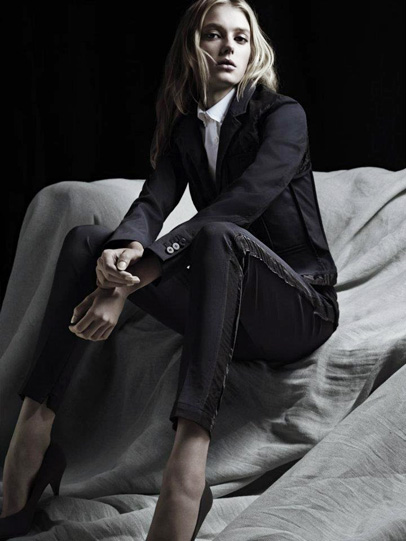 AllSaints Spitalfields unveils their 2011-2012 Winter Campaign. With dark tones reflecting evening wear and holiday social gatherings, AllSaints' collection features luxurious leather, sophisticated wrinkles, patched fabric panelling designs, knitted embroidery and shiny sparkling embellishments. With our top looks shown above, our favorite season pieces are listed below.

Fashion pieces we love are:
(from top to bottom images & pop up thumbnails)
(1) Womens Progression Gilet
(1) Womens Delores Pipe Skinny Leather Trouser
(2) Womens Brompton Jacket, Waistcoat & Trouser
(3) Womens Arundel Jacket & Trouser
(4 & 6) Womens Mercury Jacket & Trouser
(5) Womens Heather Maxi Dress
(7) Mens Tomar Bomber Jacket
(8) Mens Divide Leather Jacket

(T1) Mens Lagoon Crew
(T1) Mens Print Cigarette Jean
(T2) Womens Gression Tee
(T3) Mens Regent Tuxedo Jacket & Trouser
(T3) Womens Appeley Dress
(T4) Mens Divide Leather Jacket
(T4) Womens Hoxie Leather Dress

Designer Denim Jeans Fashion:
Season Collections, Campaigns and Lookbooks.
Credit and Source Link:
www.allsaints.com

Related Posts and Links:
In 2011-2012 Fall Winter, Collections: Fall Winter, Mens Collections: Fall Winter, Womens Collections: Fall Winter on December 2, 2011.
Tags: 2011, 2012, Ad, Advertising, All Saints, AllSaints, AllSaints Spitalfields, Appeley, Arundel, bomber, Brit, British, Brompton, campaign, cigarette, Delores, denim, designer, Divide, England, fashion, gilet, Great Britain, Gression, Heather, Hiver, Hoxie, inverno, invierno, jacket, jeans, jeanswear, kis, Lagoon, leather, London, Maxi, Mens, menswear, Mercury, pants, pipe, print, Progression, Regent, saint, saints, season, skinny, Spitalfields, Tomar, trouser, tuxedo, UK, United Kingdom, vest, vinter, waistcoat, winter, Womens, womenswear