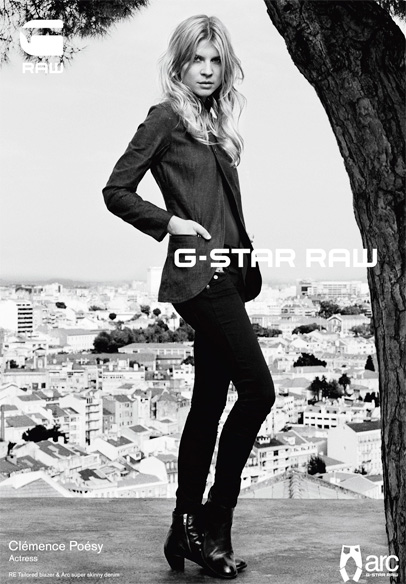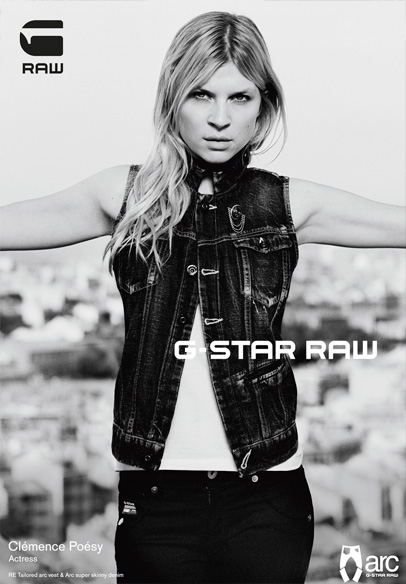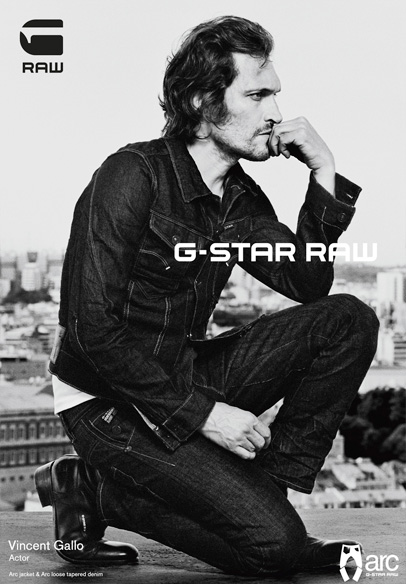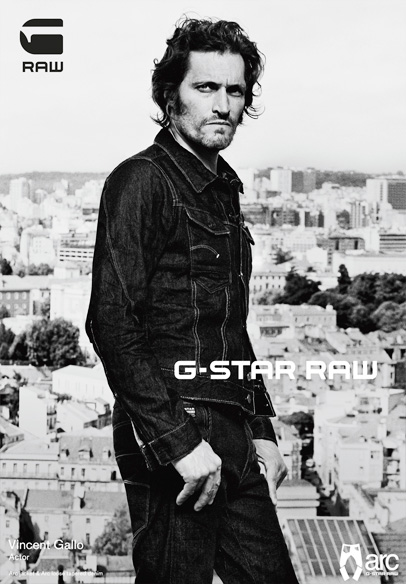 G-Star RAW presents their 2012 Spring Summer Ad Campaign. Captured by photographer and filmmaker, Anton Corbijn, the advertising crusade features actress, Clémence Poésy and artist, filmmaker and actor, Vincent Gallo.
Born in Meudon, France, Clémence Poésy is known for her roles in the Academy Award nominated film "In Bruges" with Colin Farrell, in Danny Boyle's film "127 hours", in one of the highest-grossing films of all-time, Harry Potter, as Fleur Delacour and minor parts in the American hit TV series, Gossip Girl. On the other hand, American artist, filmmaker, actor, musician, businessman and Grand Prix motorcycle racer, Vincent Gallo, returns to lead the campaign for this season. Clémence Poésy and Vincent Gallo reflect the G-Star RAW brand DNA, together with the Arc pant to represent G-Star's denim innovation.
Clémence Poésy is wearing the tailored blazer, tailored Arc vest and Arc 3D super skinny denim jeans. In contrast, Vincent Gallo, struts with the Arc 3D jacket and Arc 3D loose tapered denim jeans.

Designer Denim Jeans Fashion:
Season Collections, Campaigns and Lookbooks.
Credit and Source Link:
www.g-star.com

Related Posts and Links:
In 2012 Spring Summer, Collections: Spring Summer, Mens Collections: Spring Summer, Womens Collections: Spring Summer on February 1, 2012.
Tags: 127 hours, 2012, 3D, actor, actress, Ad, Advertising, Amsterdam, Anton Corbijn, arc, artist, blazer, campaign, Clémence Poésy, Colin Farrell, collection, Danny Boyle, denim, designer, DNA, donne, estate, été, fashion, Fleur Delacour, forår, France, frühjahr, frühling, G-Star, G-Star Raw, Gossip Girl, Grand Prix, Harry Potter, ilkbahar, In Bruges, jacket, jeans, jeanswear, lente, Mens, menswear, Meudon, motorcycle, Netherlands, pants, primavera, printemps, racer, season, skinny, sommar, sommer, spring, summer, uomini, vår, verano, verao, vest, Womens, womenswear, yaz, zomer