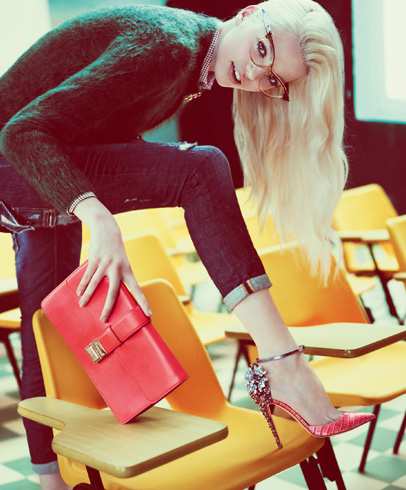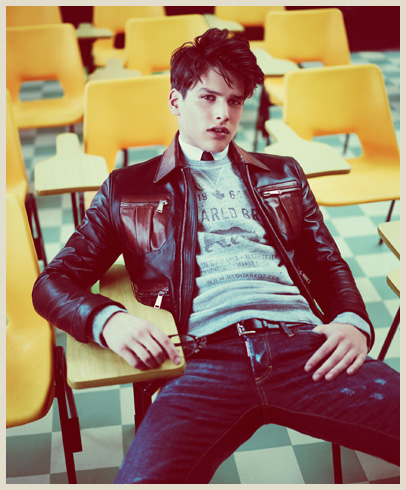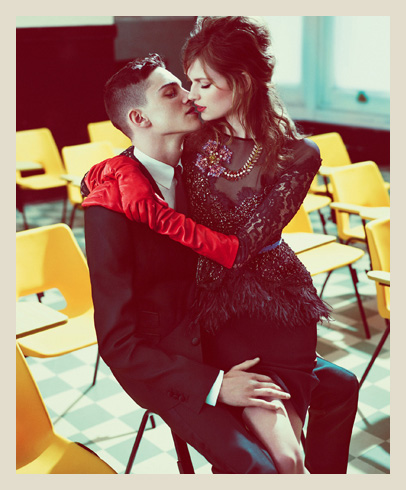 Set in a classroom, Dsquared2 introduces their 2012-2013 Fall Winter Advertising Campaign. Destroyed ripped up holes on denim and retro looks, especially on eyewear, spice up the collection.
Photography: Mert Alas & Marcus Piggott
Art Direction: Giovanni Bianco
Styling: Katie Grand
Hair: Paul Hanlon
Makeup: Charlotte Tilbury
Models: Daphne Groeneveld, Bette Franke, Frida Aisen, Simon Van Meervenne & Liuk Bass

Designer Denim Jeans Fashion:
Season Collections, Campaigns and Lookbooks.
Credit and Source Link:
www.dsquared2.com

Related Posts and Links:
In 2012-2013 Fall Winter, Mens Collections: Fall Winter, Womens Collections: Fall Winter on June 11, 2012.
Tags: 2012, 2013, Ad, Advertising, Automne, autumn, autunno, Bette Franke, campaign, Charlotte Tilbury, Daphne Groeneveld, denim, designer, Donna, donne, Dsquared2, efterår, elle, eyewear, fall, fashion, femme, Frida Aisen, Giovanni Bianco, guys, Herbst, herfst, Hiver, hombre, Homme, höst, inverno, invierno, Italia, Italy, jeans, jeanswear, Katie Grand, kis, l'homme, ladies, les hommes, Liuk Bass, lui, Marcus Piggott, men, menswear, Mert Alas, mujer, otoño, outono, pants, Paul Hanlon, retro, season, ses, Simon Van Meervenne, son, sonbahar, uomini, uomo, vinter, winter, women, womenswear